A big thank you to all of the amazing entries in this week's challenge! You have all been blowing us away week after week with your creativity and skill. I love it! Now for a refresher on our guest judge,
Bree from
His Honey & Her Mommy
. Here is a little bit more about her: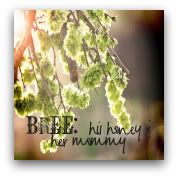 My name is Bree. I am a 30 something working mommy of a 2 ½ little girl and a wife to an amazing husband. I have lived in Utah all my life. I have a passion for photography. On the side I have recently been taking family pictures and portraits. I love learning new things and practicing. It s rare to see me without my camera. I also LOVE decorating my home, gardening, crafting, camping, rock crawling, and 4 wheeling. I also LOVE to travel and have big plans on making sure my little girl gets some of that under her belt. I despise laundry.
Be sure to
thank Bree
for joining us as a judge this week!
Like all of our judges, Bree found this decision very hard! However, she finally narrowed it down to the following winners:
love how simple she kept it with giving it a much softer feel.
loved the brushed effect she added, it is beautiful!
The overall winner:
Loved the tones, she was able to make this picture her own. The frame definitely added the final touch. I love it.
Congratulations to our winners!
Don't forget to grab your winner badges from the sidebar.
A new challenge starts tomorrow!!
Y'all know how I am always a stickler about not allowing more than 3 winners? Well, Bree's little girl wanted to give a shout-out to her favorite, and how could I resist that? So an honorable mention from the photo subject goes to Squishydoo Photography (Bree says: Seriously, she went bananas when she saw this. What a lovely & fun edit. Addison loves Tinkerbelle, and she thought this was amazing!)